PICTURE OF KIRTLAND TEMPLE 1836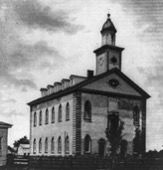 On April 3, 1836, in the newly dedicated temple in Kirtland, Ohio, the Jesus appeared to the Prophet Joseph Smith and Oliver Cowdery. Then Moses, Elias, and Elijah each appeared and committed the keys they held of vital and eternal works to earthly leaders once more.

Elijah's appearance was in fulfillment of the prophecy made in Malachi 4:5–6:
"Behold, I will send you Elijah the prophet before the coming of the great and dreadful day of the Lord:
"And he shall turn the heart of the fathers to the children and the heart of the children to their fathers, lest I come and smite the earth with a curse."

The keys and power of the priesthood Elijah restored on that day in the Kirtland Temple are described here: "And verily, verily, I say unto you, that whatsoever you seal on earth shall be sealed in heaven; and whatsoever you bind on earth, in my name and by my word, saith the Lord, it shall be eternally bound in the heavens."

These sealing ordinances, which bind families together for eternity, can be performed only in holy temples by those having the proper priesthood authority, as in the days of the ancient apostles.

YOU TOO can be sealed (bound) to your family Forever as we have been, and millions of others throughout the earth!
ONE OF MANY TEMPLES ~ THE SALT LAKE TEMPLE in SALT LAKE CITY, UTAH SHOWN BELOW
Temples endow individuals with power and seal families for eternity.
Often Asked Questions...
1) How can I/we receive God's greatest gift?
2) How can I/we safely return back to Heavenly Father?
Answers...
From Temple Square in Salt Lake City, Elder Dale G. Renlund answers those questions and more.
For more information on this, simply fill in the form at the bottom of the main page.
To return to the MAIN PAGE, click on the return button.